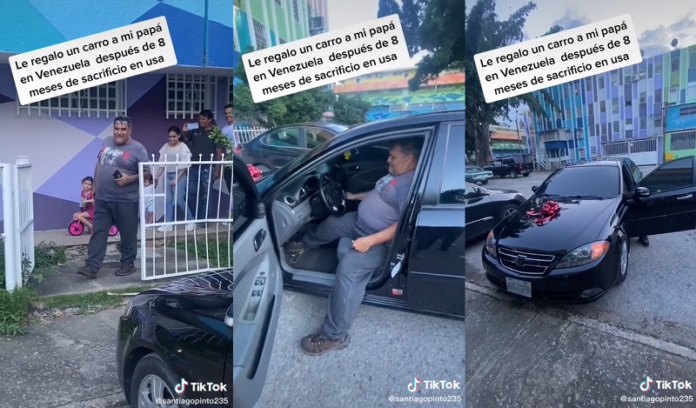 an emotional video It was shared through TikTok, by a user of the platform who stated that he had given his father a car in Venezuela, working for eight months in USA. The great surprise that perhaps the Internet user took was that the TikTok users mocked because the car he was giving to his dad was a Chevrolet Optra.
The aforementioned video was uploaded by @ santiagopinto235 on said platform with the description "My greatest joy is being able to help my parents and give them the best they deserve if possible with a lot of love and sacrifice."
In the video itself, the father and some family members can be seen leaving the house. And the father comes out noticing the Chevy model Optra in black with a big bow on the hood, starting to smile. The video unfolds with the father fixing his glasses, looking at the car, and finally getting into it.
"Cry, cry, cry," voices are heard in the background. Although the emotional man's response was: "I'm not going to cry." After this, the video ends after a few seconds.
View this post on Instagram
In Tiktok they made fun because the car he gave his dad is a Chevy Optra
But, as always, Internet users are free to comment on what they see, although sometimes the comments they post are not positive. Of course, in the video you can find people encouraging the work and effort he made to acquire the vehicle, as well as the good thing that children reward parents for their parenting work.
However, some others, as is often the case on the platform, took the trouble to act more humorous and burlesque, thus posting comments about the operation of the vehicle and the punishment that it is to have it.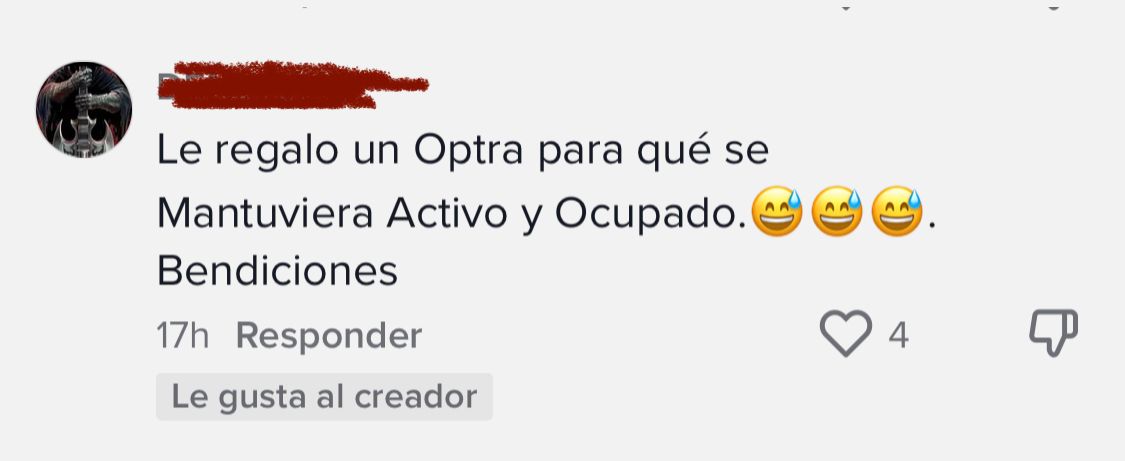 Later, @ santiagopinto235 shared another video in response to a comment stating that the car is synchronous. And although one or another malicious comment reappeared, much the same they supported him and sent good vibes.


Why does the Chevrolet Optra have a bad reputation in Venezuela?
But, what is the reason for the bad reputation of this vehicle. The Chevrolet has earned a reputation for being a "problematic" car in the Caribbean country, and that is, the Optra It is a car with too many details, considering also that it is not something cultural to carry out maintenance and repairs. preventive to cars; has earned the car the reputation of being "bad" if not cared for properly.
First of all, the vehicle handles high temperatures, so one of the great weaknesses of the Optra is that the valve cover gasket must be changed at 20,000 kilometers, and the cylinder head gasket every 30,000 kilometers. That is something fixed to keep it, once cleared that, some of the Common Chevrolet Optra Faults are:
of the front shock absorbers
suspension noises
overheating
In the gear selector due to loss of connectivity
The lower engine mount is vulnerable
The lower frontal is often twisted
The strap loosens
Clogged PCB valve
Piston by hydraulic oil pressure
The air conditioner has a bad smell because the filter needs to be changed
Font:
Carroy
. Editorial Gossipvehicle