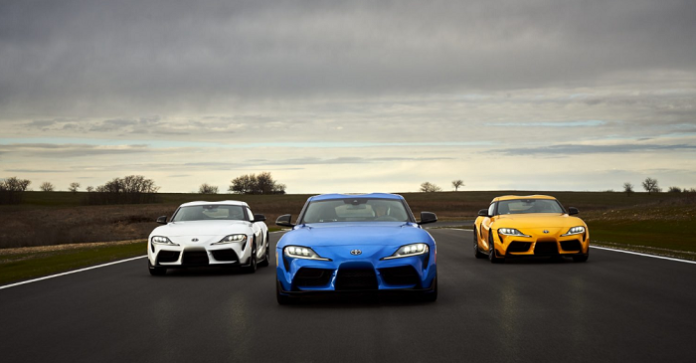 The market of sports cars nowadays it pleases everyone's tastes and preferences alike and although today trucks and large cars are the most popular, it is also true that some people prefer coupes as they are more powerful, modern and sophisticated.
Two-door cars will always be the best option for those who have a more liberal lifestyle, where space is not a prioritybut if design, privacy, adrenaline and aesthetics.
If you are part of this select group of people, we invite you to continue reading our post, since we have prepared a Top 5 with the best cars in this range.
Chevrolet Camaro
High performance on the road and impeccable design is what this coupé offers you. If you decide on this option you will have a car with 2.0L turbo engine, 275 horsepower and 295 lb-ft of torque. Type of six-speed manual transmission, 18-inch wheels and its gas consumption is 18 miles per gallon in the city.
It also contains hydraulic steering, disc brakes and dual outlet exhaust. As for its interior, its elegant design offers you a 7-inch touchscreen, six audio speakers, leather-wrapped steering wheelbucket seats, electric door locks and there is much more, visit the following page and check it out now: 2022 Chevrolet Camaro Prices
You may be interested in seeing: Ford Mustang vs Chevrolet Camaro Which is better?
Ford Mustang Mach 1
Ford brings a new coupe with everything you're looking for in a sports car, 5.0L v8 engine, 470 horsepower and 410 pound-feet of torque, MagneRide advanced suspension system, different driving modes, 10-speed automatic transmission and 19-inch aluminum wheels.
Inside you will find comfort and luxury thanks to its leather-wrapped seats, 12.3-inch LCD screen, electronic climate control, voice-activated navigation system and Bluetooth connection and you can find it from $27,470 USD. We invite you to click on the following link so you can see it with your own eyes
toyota supra
This brand is undoubtedly one of the favorites in the United States and offers us a really incredible two-door model that has a 2.0L turbocharged inline four-cylinder engine, 255 horsepower and 295 pound-feet of torque, transmission of six speed and its gas mileage varies 21.2 miles per gallon.
However, its internal part is functional and sophisticated with sports seats that have electric adjustment, 8.8-inch touch screen, three-dimensional tachometer, leather-trimmed steering wheel, heating and a trunk of more than 10 cubic feet. The toyota supra You can buy it from 43,540 USD.
BMW M2 Series 2
BMW defines as quite an experience driving the new M2 coupe series 2 thanks to its sports steering, four-cylinder diesel or gasoline engine, eight-speed gearbox in automatic and manual mode and M suspension with optimal damping. Its price if you are looking for it used ranges between $49,489 dollars.
Speaking of its internal section, we highlight that the chairs are made of leather and have electric movements, keyless ignition, 10.1-inch display, LED night lighting, dual zone air conditioning and various compartments. Watch it in detail in the next video
dodge challenger
This car is an American experience, 6.2L HEMI V8 engine, 807 horsepower and traction not in 1 but in its 4 wheels. It also has Pirelli tires, Brembo brakes and a starting assistant. The fuel it consumes is 22 miles per gallon and the price ranges from $30,940 dollars.
Based on the interior, we highlight its 8.4-inch touch screen, comfortable seats, Alpine sound system, suede roof and automatic heating, among many other features. Enter the dodge official website and discover if it is the perfect car for you:
New Electric Autos
The cheapest sports cars on the market