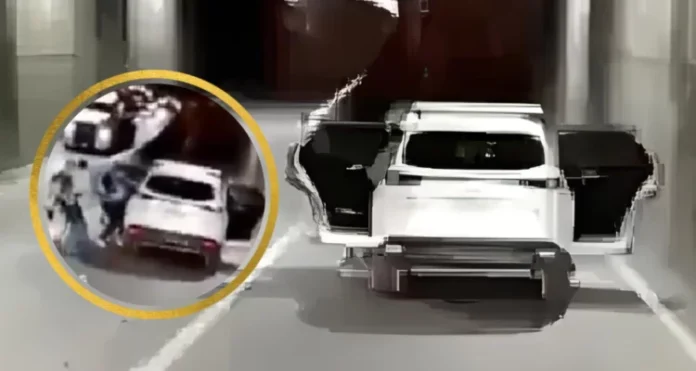 A new locks up went viral through social networks, where a mother running away from the scene with her children in her arms without caring about the stolen vehicle.
The incident was recorded in Los Libertadores Highway with the intention of taking Amerigo Vespucci, Colina commune, an area where crimes of this type frequently occur.
The sequence was broadcast through TikTok, and it is observed how the victim is helped by another driver who, in turn, yelled at the criminals. "Leave the motherfucking children", exclaimed the driver and co-pilot of a van, who helped the woman and her children.
Read More: Chile – Army officer shot to prevent the theft of the vehicle of his neighbors in La Reina
For their part, the antisocials stole the vehicle, a New 2019 Mazda CX. "Mom, where's the car? one of the children is heard saying while crying uncontrollably.
According to BiobioChile, the thieves were four subjects, all with hoods and wearing masks. The 37-year-old woman stated that one of her individuals pointed a firearm at her, so she immediately got out of the car.
Carabineros gives details
Hector Munoz, Mayor of the 6th Police Station of Recoleta, reported that the incident happened last Saturday, October 15.
"A group of criminals carried out a robbery with intimidation of a vehicle that affected a family that was helped by some people who were traveling on the highway", indicated the officer.
"The stolen vehicle was found in the commune of Recoleta thanks to its GPS and the victims made the complaint to the Carabineros in the El Salto Tenancy", he added.
It was also reported that the facts were reported to the Public Ministry for its respective investigation.
Editorial New Electric Autos Source: biobiochile