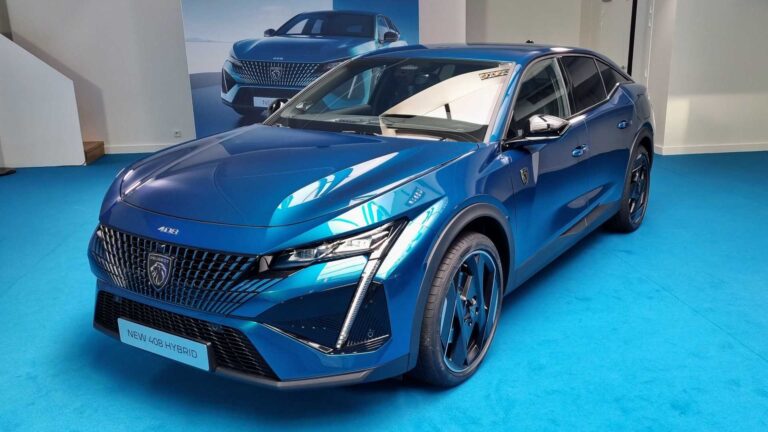 peugeot launched its most recent creation on the Spanish market, the peugeot 408 2023which can already be booked with an initial price of 33,350 euros, although the The first units will be delivered in January or February 2023.
The firm qualifies it as a crossover, developed on the 308 platform, although its dimensions are large and it could be considered an SUV coupé.
It is a model of 4.69 meters long, 1.85 wide and just 1.48 high, in addition to a wheelbase of 2.79, with a special design.
A fastback silhouette crossover
The model mixes two concepts and this is its hallmark. This mixture already seen before in the Citroen C5 Xalthough this time it is trying to offer a more dynamic line to attract drivers from different segments, including SUVs and sedans.
Among the striking features are the body color front grille, sharp headlamps, 20" alloy wheels and a Integrated rear spoiler.
A distinctive feature is the fall of the roof, already from the B-pillar that is combined with the calls "cat ears": two bumps on the back, similar to the one seen in the Civic Type R. which is responsible for channeling the air.
Range composed of four engines
Although it is a competitive vehicle, the firm treats it as a transition car, since the engines that are beginning to take over the market are electric.
In this context, a range without alternatives is offered diesel and different electrified versions, although always with front-wheel drive and eight-speed transmission, under the names EAT8 and E-EAT8.
The entry model has a PureTech 130 petrol engine, that is, a 1.2 three-cylinder turbocharged petrol engine, with 130HP. A little above are two plug-in hybrids of 180HP and 225HP, with a range free of emissions for 60 km.
Read More: They present the Peugeot e-208 2023 with greater power and range (+ Images)
Finally, there are 100% electric options, which will arrive later and for which there is still no official data. If you want some clues, the Peugeot 308, the e-308 may be the answer.
Inside
Turning to the cabin, it is almost identical to the new 308, so it has the so-called i Cockpit, with three-dimensional instrumentation. Its cabin is modern and tidy, with a screen, which is intuitive to use and, without neglecting the physical buttons.
The Peugeot 408 can be purchased at six body colorsincluding the new Blue Obssesion and Gray Titanium, as well as the three finishes: Allure, Allure Pack and GT.
In terms of equipment, they are all state-of-the-art elements, such as Drive Assist + semi-autonomous driving assistance, night vision system, LED headlights, lane keeping system, front seats with electric adjustment, ventilation and heating.
Peugeot 408, all prices for Spain
| Version | Price |
| --- | --- |
| 408 Allure Puretech 130 S&S EAT8 | €34,850 |
| 408 Allure Pack Puretech 130 S&S EAT8 | €36,500 |
| 408 GT Puretech 130 S&S EAT8 | €39,300 |
| 408 Allure PLUG-IN HYBRID 180 e-EAT8 | €42,850 |
| 408 Allure Pack PLUG-IN HYBRID 180 e-EAT8 | €44,100 |
| 408 Allure Pack PLUG-IN HYBRID 225 e-EAT8 | €45,600 |
| 408 GT PLUG-IN HYBRID 180 e-EAT8 | €46,900 |
| 408 GT PLUG-IN HYBRID 225 e-EAT8 | €48,400 |
| 408 First Edition PLUG-IN HYBRID 225 e-EAT8 | €49,450 |
Editorial New Electric Autos Source: Engine1