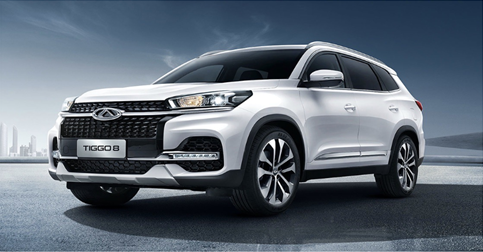 The Chery Tiggo 8, launched to the world market at the 2018 Beijing Auto Show, has been generally well received by the public. It stands out among users for its safety and aesthetic equipment. «Chery Tiggo 8: user reviews» will help you decide on this new proposal from Chery.
This Chery D-segment SUV provides a 16-valve engine with a displacement of 1,971 cc and four cylinders, associated with a 6-speed automatic transmission, although it is also available in a manual version. If you want to know how the user experience has been with this Chery model, keep reading!
In this video you can see an overview of the Tiggo 8:
Reviews Chery Tiggo 8 2022
The Chery Tiggo 8 has very good reviews in most aspects. Mainly, stands out for the third row of seats, in which two adults can sit comfortably. In the rest of the segment this row is designed for children, so it does not have much space.
In the following video you can see a fairly detailed description of the main features of the Tiggo 8:
Is the Tiggo 8 spacious?
The Chery Tiggo 8 is very spacious. As said before, it stands out in the space offered by the third row of seats, designed for adults. It measures 4,700mm long, 1,860mm wide and 1,746mm high, with a 2,710mm wheelbase. This dimension ensures an excellent space-equipment ratio in the interior compartment.
Is the Chery Tiggo 8 comfortable?
Chery's bet with this Tiggo 8 results in comfort. The equipment provides greater guarantees than its previous peers in terms of comfort, since it is equipped with advanced technology typical of more expensive brands in the segment.
Is the Chery Tiggo 8 safe?
Chery does not save on security elements for this Tiggo 8 truck. It has six airbags, head restraints in all seats (seven), ABS+EBD brakes, traction and stability controls, as well as Isofix and Top Tether anchors for child restraint systems.
In addition, it can monitor tire pressure and hill descent control, which allows this truck to provide an excellent driving experience, very stable.
Tiggo 8 models and prices in Chile
The following are the models and prices of Tiggo 8 2023 available in Chile. The most expensive model stands out in aesthetic details, such as panoramic roof, automatic gearbox and remote engine start.
| | |
| --- | --- |
| Model | Price |
| TIGGO 8 GL MT | $17,490.00 |
| TIGGO 8 GLS MT | $18,990.00 |
| TIGGO 8 GLX DCT | $23,990.00 |
Comments Tiggo 8: Fuel consumption
According to the experiences of the users of this Tiggo 8 truck, the average fuel consumption in the city is located between 7 and 8 kilometers per liter of gasoline.
This is a point that has been classified as one of the least attractive of this Chery model, since it has been shown in practice to be even less than that detailed in the manufacturer's specifications.
In the following video you can see an explanation on how you can save fuel in your Tiggo 8:
It may interest you:

Chery Tiggo 2: Opinions in Chile
Comments Tiggo 8: Are the spare parts available in Chile?
In Chile, there is an important distribution market for the Chinese brand Chery. Due to its geographical, strategic and commercial proximity to the Asian country, Chile is one of the Latin American countries with the best conditions to obtain spare parts for vehicles imported from China.
Chery Tiggo 8: claims of the owners
Users have reported some failures of their Tiggo 8. Among those that are repeated with some regularity are:
The engine loses power: Regarding this fault, most have been able to solve it at the dealer with a change of spark plugs

Problems in the box: jerks

Light on alerts

check engine
Chery Tiggo 7 vs. Chery Tiggo 8: Which one to buy?
If we think of design, comfort and aesthetic details, there is no doubt that the choice should lean towards the Chery Tiggo 8. It is a complete luxury experience, both outside and inside, but its highlight is the technology applied to comfort.
It may interest you: Tiggo 8 and HAVAL H6 in Chile, which is better?
Conclusion: Is the chery Tiggo 8 good?
The Chery Tiggo 8 pickup is a very well-made SUV from the brand. According to most critics, it is a model that has all the credentials to become one of the most sought after in the segment. This is due to the excellent equipment-price ratio that the Chery brand has achieved with this truck model.
FAQ:
Where is the Chery Tiggo 8 manufactured?
The Tiggo is assembled for Latin America, since 2007, at the Oferol factorylocated in Barra de Carrasco, in the department of Canelones, Uruguay.
How much does a Tiggo 8 consume?
On average, the Chery Tiggo 8 has a performance that varies slightly between 7 and 8 kilometers per liter of fueldepending on the load conditions of the vehicle and the driving mode.
How much does a used Tiggo 8 cost?
For reference, you can have a used Chery Tiggo 8 for a price of $15,980,000. In this parameter, the prices of this used vehicle are located, which present slight variations in attention to the mileage and condition of the unit.
Is the box of the Tiggo 8 good?
According to user experience, it has shown jerking and difficulty starting when the vehicle is cold. However, the positive comments far outweigh the negatives regarding this spectacular example of Chery.
New Electric Autos
Tiggo 8 or Toyota Rush? Choose the best of the 2023 SUVs